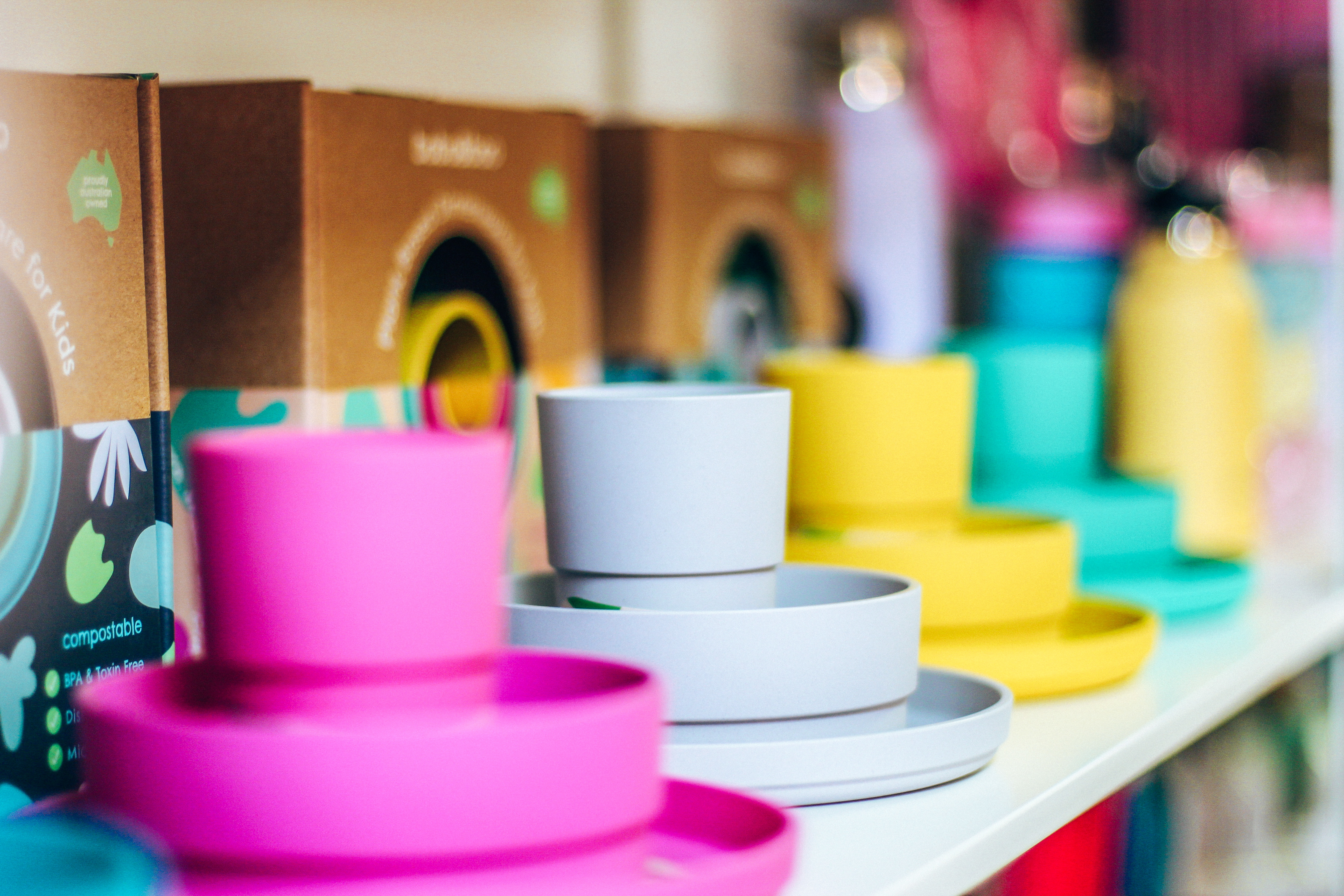 FAQs on Bobo&Boo
1. WHERE ARE YOUR PLANT-BASED DINNERWARE ITEMS MADE?
Just like our bamboo dinnerware, these babies are thoughtfully and lovingly designed in Australia and then created with a lotta' heart and eco-lovin' vibes by our production partners in China.

2. SO, WHAT'S IN THESE PLANT-BASED PLATES (AND BOWLS AND CUPS) OF YOURS?
Glad you asked. Our new range is made using a plant-based resin created from renewable fibres extracted from crops like corn, wheat, and sweet potatoes. Better still, they're free from BPAs and melamine, which means zero toxins and nasties – hooray! So while you may not be able to get your kids to eat their greens, at least you can give yourself a high-five for making sure their dinnerware is chock-full of plant-y goodness.

3. ARE THEY MICROWAVE SAFE?
You betcha'! It's taken us a few years, but we've finally come up with the goods that can handle the heat of the dishwasher and the microwave.

4. HOW CAN I TELL THE DIFFERENCE BETWEEN MY OLD BAMBOO AND MY NEW PLANT-BASED DINNERWARE?
To create our plant-based range, we use a new, fancy-schmancy injection mould process, which leaves a small insertion hole on the underside of the plate/bowl/cup. So, if you're not sure which one is which, flip it over and check for the little pinhole on the back. (Go ahead, check it out. We'll wait here.)

5. UM, WHAT'S PLA? IS IT A TYPE OF PLASTIC?
Excellent question! PLA (or polylactic acid, for all those smarty-pants parents playing at home) is a bioplastic derived from renewable resources like corn starch, sugar cane, straw, woodchips – even good ol' veggies!

Instead of using nasty chemicals like petroleum (#gross) to create long-lasting products, our super-smart science-y pals have figured out a way to bind natural, renewable biomass sources together with resin to form reusable and earth-kind products. (And that, my friend, is why they get to wear the fancy white lab coats while we still have last night's spaghetti sauce on our t-shirts. Go figure.)

6. WHAT HAPPENS IF I BREAK ONE?
Good news! Our plant-based plates, bowls, and cups are 100% compostable, which means if you lose one in the line of fire (aka a toddler meltdown of epic proportions), it will go on to have another life as part of your garden mulch. (#BetterThanTheBin)

We also sell our plant-based items in singles so you can steal borrow your kid's pocket money to replace your missing pieces without having to buy a whole new set.

7. CAN I BUY YOUR PLANT-BASED PIECES INDIVIDUALLY?
You sure can! But honestly, they love being part of a crew, so feel free to buy them a few extra breakfast buddies to hang out with (*wink*).

8. ANY TIPS FOR KEEPING MY PLANT-BASED GOODIES LOOKING SCHMICK?
Chuck 'em in the dishwasher and let the machine do its job! But if you feel like getting back to basics, give them a good ol' bubble bath in the sink with hot water and dry with a clean tea towel (the fluffier, the better).

9. SO, ALL UP, WHAT'S THE DIFFERENCE BETWEEN 'PLANT-BASED' AND 'BAMBOO' DINNERWARE
To help you out, we made this handy little cheat sheet: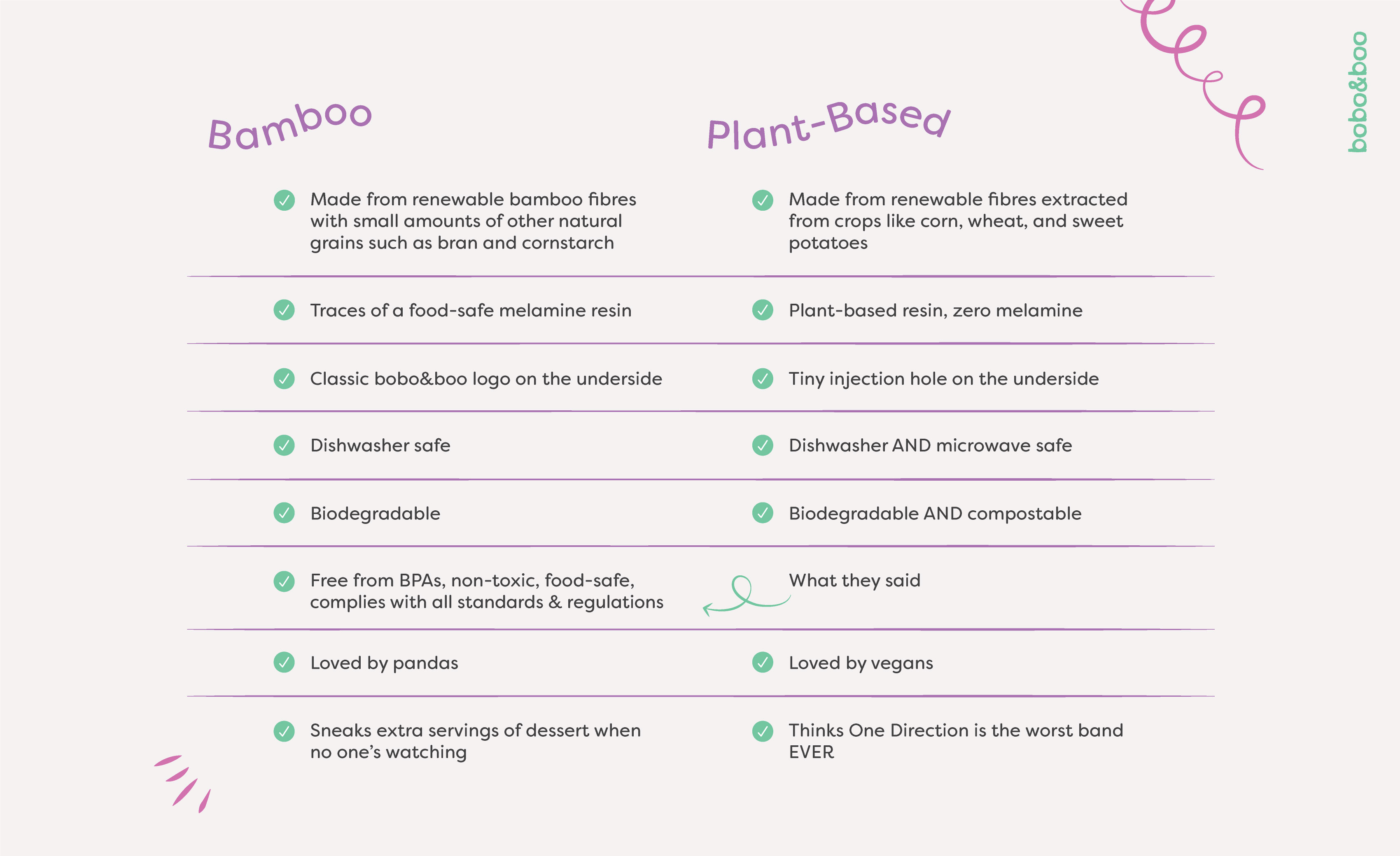 10. WHY MAKE A MOVE FROM BAMBOO TO PLANT-BASED DINNERWARE?
Look, we're the first to say that we love our bamboo dinnerware like we love our kids; however, we've also always been the first to openly admit that even our bamboo goods come with a teeny-tiny amount of food-grade melamine in them. That's why we've spent the last few years searching the globe for the technology to create another option for those mamas and papas who want a genuine melamine-free dinnerware option. It's all part of our 'Do better. Be better.' philosophy, as we do our bit to make the planet a better, brighter place for our little Boos.