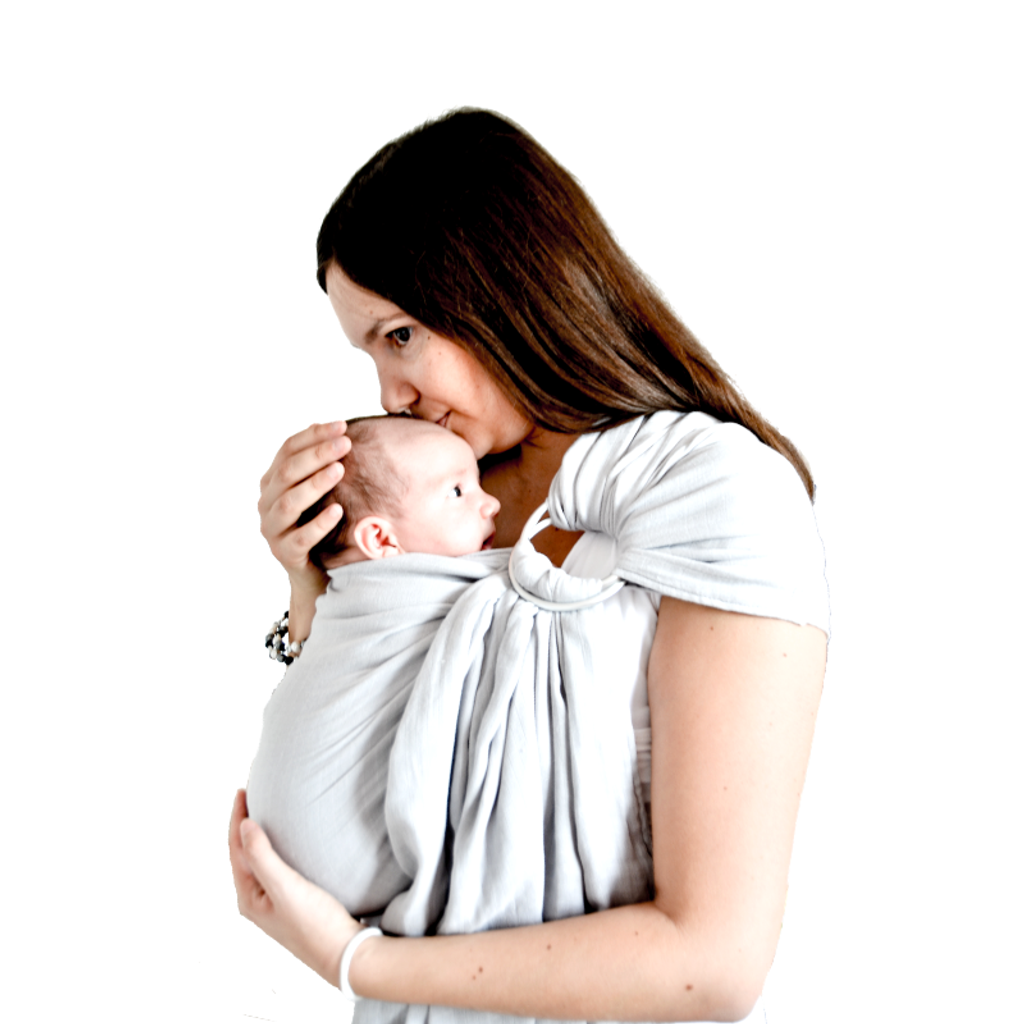 Maru Sling Muslin - Light Grey
A sling made of natural fiber.
The MARU SLING - Muslin is a sling made by 100% cotton muslin, soft and breathable.
Muslin is one of the ideal materials for newborn baby, it is ultra soft and absorbent. The cotton muslin has a particularity, it becomes more and more soft after each wash, for a more intense cocoon effect!. The cotton muslin is also naturally ventilated, it will evaporate the heat generated by the portage and bring you freshness and comfort in any circumstance.
Thanks to its properties, the MARU SLING can be used in both summer and winter.
Soft, lightweight, breathable and easy to use, it has it all. It's easy to use, quick to put on and comfortable for baby and mom / dad.
Material: 100% cotton muslin.
Ring: aluminum alloy.
Advantage of MARU SLING:
Spring / Summer:
Generally baby's body temperature is higher than that of an adult and they are sensitive to heat. This is why babies sweat twice as much as an adult.
Since a baby can not regulate his body temperature, they can't cool themselves as well as adults so they're more at risk of overheating and developing a heat-related illness. MARU SLING makes it possible to regulate its temperature thanks to the cotton muslin which aerates and thinens the air.
Autumn / Winter:
A baby needs to feel cocooned and reassured.
The extreme softness of Maru Sling will provide the support and security sought.
Features of the MARU SLING:
Comfortable: The MARU SLING spread evenly over your shoulder and is held firmly in place.

Ergonomic C-curve: Maintains the ideal orthopedic position for baby's spine in a C-curve position.

Ergonomic M shape: Maintains the ideal orthopedic position of the baby's legs in an M-shaped position.

Easy and safe adjustment: The secure aluminum rings has a resistance of more than 300 kg.

Breathable: The muslin itself is a loose weave of 100% natural cotton. It allows a bit of airflow or breathe-ability so that your baby can more easily regulate body temperature and not become overheated.

Breastfeeding Friendly: You can also breastfeed easily your baby with the tail material can be used for discreet breastfeeding.
Summary:
• Can carry a child from about 3.5 kg to 15 kg. (from 10 days to about 3 years old).
• Fast carry, without having to knot: thanks to 2 rings. Fits in the blink of an eye
• One Size fits all: it is suitable for almost all body types, and will be comfortable for all wearers (up to 1.90m height and 120cm around chest)
• Allows multiple carrying positions: front carry and side carry.
• Comes with a user manual.
• MARU SLING meets safety requirements. Safety test carried out by a certified laboratory in France. Complies with a type examination carried out according to FD CEN / TR16512 (04/2015) (Soft carrier). Complies with the safety requirements set out in the appendix to decree 91-1292 of 20 December 1991 on the prevention of risks resulting from the use of childcare articles.
Maintenance tips :
Hand wash recommended.
Machine washable at 40 ° C
(delicate cycle, wash separately in a net).
Use a mild detergent.
Dry in the shade.
Do not use bleach or fabric softener.
Do not use the dryer or iron.