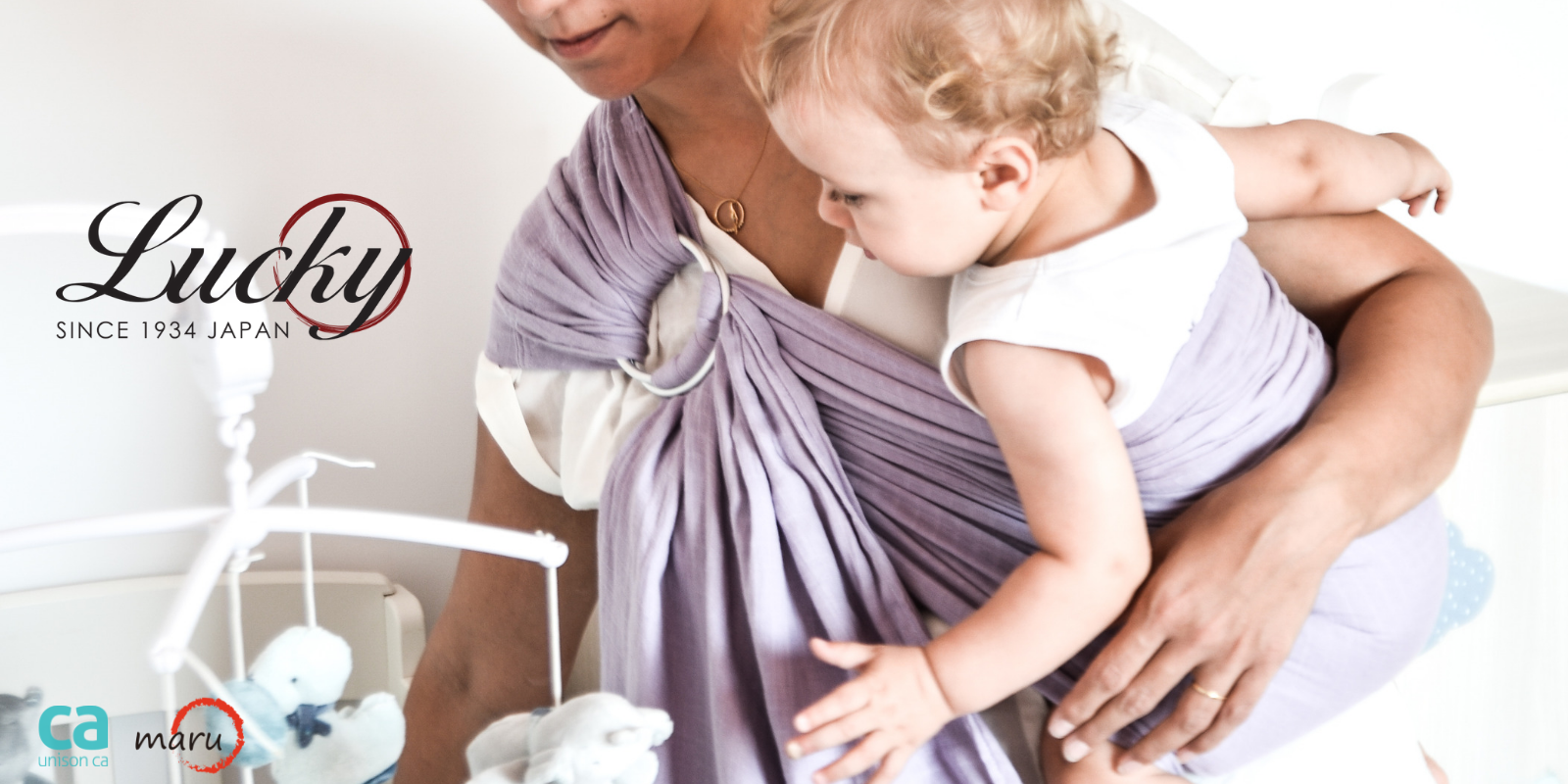 Maru Sling is produced by Lucky Industries Co., Ltd, who is probably the oldest baby carrier manufacturer in the world. Lucky Industries established since 1934, at Gifu Prefecture, Japan.
At the time in Japan, most families had more than 5 children, and moms were everywhere at once: management of the tribe, household, meals, shopping... Mr Takéo Higuchi decided to create the first onbuhimo baby carrier to helps the moms back carry their babies in order to free the space in front for facilitating the life of the mothers. That's where the brand of Lucky established.
However after 30 years of existence, Japanese society became very peaceful and lucky. Year of 1964 is a seminal year in modern Japanese history, where the 1964 Tokyo Olympics and the first run of their bullet train. Their generation evolving and become fashionable, Japanese birth-rate decreased gradually. Then it becomes no longer necessary to carry babies on the back.
In 1967's, Lucky began exporting baby carriers to America where they acquired a patent. Since it's founding, the company has produced over 40,000,000 baby carriers over the 80 years with strict global standards promising quality. All the baby slings & carriers have quality control and support within the reach of their own factory and partner's factories.
Up to now, Lucky has not actively expand their export market due to their capacity is always full. We are grateful that we are able to bring in some signature products by Lucky to Malaysia.
Few remarkable brands produced by Lucky, such as:-
- SUPPORi: the smallest & most stylish baby sling in the world.
- SUKKIRi: Ultra lightweight and breathable polyester mesh ring sling, as known as water sling.
- PITTARi: Innovative baby wrap to makes it possible for everyone to use wrap more easily!
Now, Lucky is introducing MARU SLING, a ring sling with incredible & unique fabric weaving structure material. The tail of the MARU Sling is come with marker, practical to use and not to twist the fabric by mistake.
There are 2 types of MARU sling:
MARU Sling Type
Muslin
Jacquard
Material

100% cotton muslin
(ultra soft and absorbent)

Jacquard cotton
(beautiful jacquard design from Spain)

Ring

2 seamless aluminum alloy ring, with durability of 150k each

Fabric Length

1.85 meter
Max Weight

up to 15kg (approx. 2~4 years old)

---
---