EU SPC Soft Structure Carrier (Ivory x Woodland Beige)
EU SPC soft structure carrier is highest quality baby carrier that sewn to this one by one carefully by the longest history baby carrier manufacturer in Japan. It comply with all the safety standard by Japan Consumer Product Safety Association (SG).
Renowned Designers' Series
Scandinavian Pattern Collection's baby carrier is a designers' series by the renowed Edholm and Uilenius, the renowned graphic designers & illustrators often engaged by UNICEF, Paul Smith, Absolut Vodka, Ikea, and other international brands. Not only it comes with irresistably beautiful design, it is also very comfortable because the material is very soft.
Features:
1) Thick Shoulder Pads:
The thick shoulder pads disperse the baby's weight over the parent's shoulders and throughout their waist. Holding a baby with "shoulders and waist" properly will allow the parent to be comfortable regardless of the carrying time.
2) Wide Belted Waistband:
To fit the Asean body type, we used a soft urethane. Also, since there is a firm width, it can comfortably distribute the weight even if the baby becomes larger.
3) Head Support:
It will gently support the baby's head in beddy-bye. It can be adjusted in three stages to fit tightly. It helps support baby's head when he/she is sleeping. The length of the head-support hood's strap is adjustable.
4) Safety belt:
It attached with safety belts anchoring the baby in the baby carrier. The safety support not only prevents baby from falling out of the carrier. it also improve the convenient to confidencetly piggyback carry your baby
5) Rain Cape:
The rain cape will protect your baby from rain and wind. It can also be easily attached to the loop of the shoulder belt.
6) Pouch:
It is very useful compartment for you to keep your items such as keys, mobile phone, notes or even baby shoes.
7) Mesh System:
Suitable for all weather, quick change to mesh. For use in different climate / temperature. When not in use, the cloth can be stored in the waist pocket.
8) Premium Material:
EU SPC is made by 100% cotton from Japan. It is comfortable for both adult and baby.

Japanese Safety Standard:
The safety of your baby is most important. We focus on the raw material, accessories, inspection, and safety system to provide you with a well-designed and manufactured product.
1) Material: Babies are very delicate and may have extremely sensitive skin. We take quality control very seriously. Each inspection is done by a third party for each production, focusing on color fastness, tear strength, formalin, etc. Recently, Formalin has been restricted widely due to the risks and side effects it has been known to cause. Lucky Industry takes measure to avoid these risks: Inspections in each step - fabric, material, factory, warehouse, and office.

2) Accessories: The buckle is the most important accessory to hold the baby in the carrier safely. The baby's weight is mainly concentrated on the buckle. Therefore, there is a high possibility that the buckle can break. Lucky Industry uses the most reliable, safe, and efficient buckle in the baby carrier industry, the YKK. YKK's standards are the strictest in environmental testing. When developing the new buckle, they spent almost a year studying the accessory and inspecting its performance. In addition to their research, they inspect each buckle 5 times, material purchasing, during production, after production, and packaging. They exclusively inspect our buckles BEFORE shipping.
3) Sewing: EU SPC soft structure carrier are sewn by experts who have been sewing baby carriers for more than 10 years. Of course, it is made in Japan.
4) Inspection: Lucky Industries seriously controls quality from purchasing our cloth stage. We also inspect at the sewing stage and product test in the sewing factory, and finally another inspection at our independent inspection factory.
5) Safety Belt to minimize the risk: Without the safety belt, there is a possibility to drop your baby in the piggy-back carrying position. A baby might slip out from the side of the baby carrier. If you use the safety belt correctly, you can prevent such an accident from occurring.
6) SG Certified: It is accredited and certified by the SG (Japan Consumer Product Safety Association), which is to be the most stringent in the world.
Recommended Age
From newborn / 10 days old (infant insert is required) up to a weight of 15kg
Face to face: A child who can hold his/her head up unsupported. Approximately 4 months old (6kg) - 36months old (15kg)
Piggy back: A child who can hold his/her head up unsupported. Approximately 4 months old (6kg) - 36months old (15kg)



4 Colors to choose: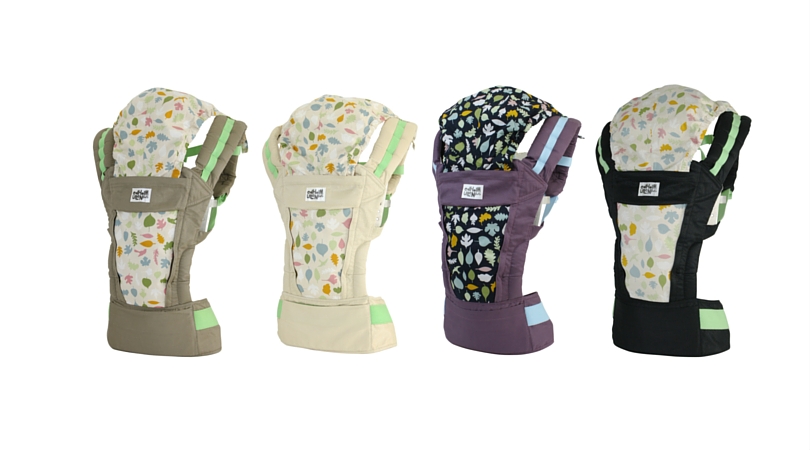 Infant Insert
Infant insert is required for newborn up to around 4 months old (when the child can lift his/her head up unsupported). Infant insert is NOT include in EU SPC and sold seperately. Please contact us if you interested to order infant insert.